Installing Tkey Messenger on Linux
Installing Tkey Messenger on Linux

By Support Agent Tkeycoin
updated 8 days ago
Tkey Messenger is available in the Linux app store — https://snapcraft.io/tkey-me and is available on all popular Linux distributions: Ubuntu, Debian, Arch Linux, CentOS, Fedora, KDE Neon, Kubuntu, Manjaro, Linux Mint, openSUSE, Red Hat Enterprise Linux, elementary OS.
The installation starts with a single command in the terminal:
sudo snap install tkey-me
It is also easy to launch Tkey Messenger by entering a command in the Terminal or using the application menu:
tkey-me
If you have disabled Snapd in your system, please use the quick start instructions for snapd.
Click on the system name to go to the instructions:
TKey Messenger installation and launch process
1. Launch the terminal by pressing Ctrl+Alt+T;
2. Enter the installation command:
sudo snap install tkey-me
3. Launch Tkey Messenger in any convenient way.
(!) The startup process may differ depending on the Linux distribution you are using.
You can open the "menu" using the keyboard shortcut: Alt+F2, then enter tkey-me and press Enter.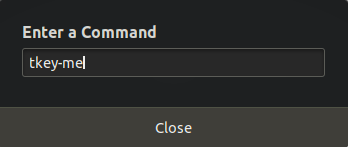 From the console -> Enter the app name in the Terminal and press Enter:
tkey-me
From the app menu:

From the App Manager:

Did this answer your question?