How to launch tkeycoin autominer?
How to launch tkeycoin autominer?

By Support Agent Tkeycoin
updated 3 months ago
Autominer allows you to automate the process of mining TKEY, start "autominer" takes a few seconds.
1. Launch the Tkeycoin Core app;
When you start the application, it is fully synchronized with the network, you will see a warning about the loading of blocks, at this point there is no need to do any operations. When the network synchronizes all blocks, get started.
2. In the top toolbar, select the "Mining" section";

3. In the column "Block reward address", enter your tkeycoin address to which you want to receive a reward for the extracted blocks;

4. In the Number of threads for the mining field, you can select the number of threads for mining. 1 thread is equal to 1 core of your processor.

5. Start mining with the "Start" button.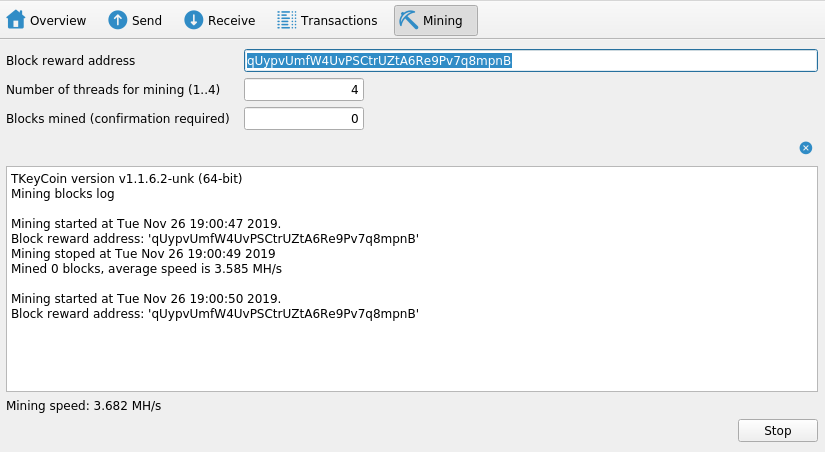 The number of blocks mined will be displayed in the Block mined (confirmation required) field, as well as in the Transactions tab.
During mining, it is important not to close the application, otherwise, cryptocurrency mining will stop;
For mining to work 24/7, go to the "Power Supply" settings, disable the transition to "How do transactions occur on the TKEY blockchain?".
How to launch tkeycoin autominer?
How to start mining through Tkeycoin Daemon?
Tkeycoin mining recommendations
What equipment can be used for mining TKEY?
Can I mine on multiple devices?
Did this answer your question?